Wyndham Garden Hotel is conveniently located one mile east of San Jose International Airport. Also within walking distance are unique restaurants, recreational facilities and many attractions are located within a few miles.

Light Rail is 150 yards away which accesses downtown San Jose, Paramount's Great America and many other areas.
San Jose Area Destinations.
Travel 25 miles south to get to Santa Cruz, home of the Santa Cruz Boardwalk (California's oldest amusement park). Rides for all ages, an old-style arcade and Santa Cruz Beach make this a very attractive destination for the whole family. About 30 minutes down Highway 1 from Santa Cruz, you will arrive to the wild, rocky coastline and brick cannery buildings of Monterey. Boutique shops, restaurants, antique stores and the must-see Monterey Bay Aquarium line historic Cannery Row.
Located 40 miles to the north of our hotel is the world renowned "City by the Bay", San Francisco. Union Square, Fisherman's Wharf, the Golden Gate Bridge and those little cable cars reaching halfway to the stars! [
[Top]
San Jose Area Attractions
You couldn't ask for a better location than the
Wyndham Garden Hotel.
You're in perfect proximity to so many marvelous attractions, including the San Jose Museum of Art, San Jose State University and Santa Clara University, Egyptian Museum, Paramount's Great America, Tech Museum of Innovation, Winchester Mystery House and the Shark Tank at the HP Pavilion.
San Jose State University - 2.1 miles
Enterprise Rent-a-Car - 100 yards away 408-437-1001
Santa Clara University - 2.9 miles
Children's Discovery Museum – 3.2 miles
Rosicrucian Egyptian Museum – 2.8 miles
Happy Hollow Park & Zoo – 6.1 miles
Mexican Heritage Plaza – 4.2 miles
Paramount's Great America – 5.8 miles
The Tech Museum of Innovation – 2.6 miles
Winchester Mystery House – 4.3 miles
American Museum of Quilts & Textiles – 3.0 miles
Japanese Friendship Garden – 6.1 miles
Marine World Africa USA, Vallejo, CA – 68.4 miles
Raging Waters Theme Park – 8.7 miles
HP Pavilion – 2.8 miles
San Jose Historical Museum – 6.1 miles
San Jose Municipal Golf Course – 2.8 miles
San Jose Museum of Art – 2.9 miles
Santa Cruz Beach Boardwalk – 33.2 miles [Top]
Nearby Cities
Santa Clara – 5 miles
Santa Cruz – 25 miles
Oakland – 38 miles
San Francisco – 40 miles
Monterey – 70 miles
[Top]
Car Rental and Airports
Enterprise Rent-a-Car - 100 yards away at 408-437-1001. Hours are Mon-Fri 7:30am to 6pm and 9am to 12 noon on Saturdays.
San Jose International Airport – 1 mile
San Francisco International Airport – 30 miles
Oakland International Airport – 33 miles
24-Hour Courtesy Airport Transportation available at San Jose Airport for Oakland and San Francisco. You can phone 408-321-2300 for further information.[Top]
Driving Directions
From San Francisco/San Francisco Airport:
Take Hwy 101 South
880 South
Very next exit is First Street/Downtown, Turn right on First Street
Immediate right on Rosemary
Clarion Hotel is 200 yards on the left


From Gilroy:
Take Hwy 101 North
Take Hwy 880 South (Los Gatos/ Santa Cruz)
Very next exit is First Street/Downtown, Turn right on First Street
Immediate right on Rosemary
Clarion Hotel is on the left


From Santa Cruz:
Take Hwy 17 (880) north
Exit First Street
Left on First Street
Right on Rosemary
Clarion Hotel is 200 yards on the left


From Oakland:
Take Hwy 880 south
Exit on N First Street/Downtown
Right on First Street
Immediate Right on Rosemary
Clarion Hotel is 200 yards on the left


From San Jose International Airport:
Take the Skyport Exit
Right on First Street
Left on Gish
Right on 4th
Clarion Hotel is on the right.
or
Exit towards 880:
Take 880 north
Exit First Street
Left on First Street
Right on Rosemary
Clarion Hotel is on corner of 4th and Rosemary [Top]
Wyndham Garden Hotel Location Map - San Jose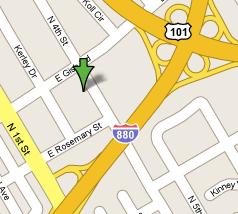 [Top]
Wyndham Garden Hotel
1355 North Fourth Street, San Jose, CA 95112
Phone: 1-888-453-5340
reservations@wyndhamgardensanjose.com
and or
info@wyndhamgardensanjose.com
Privacy & Security Policy